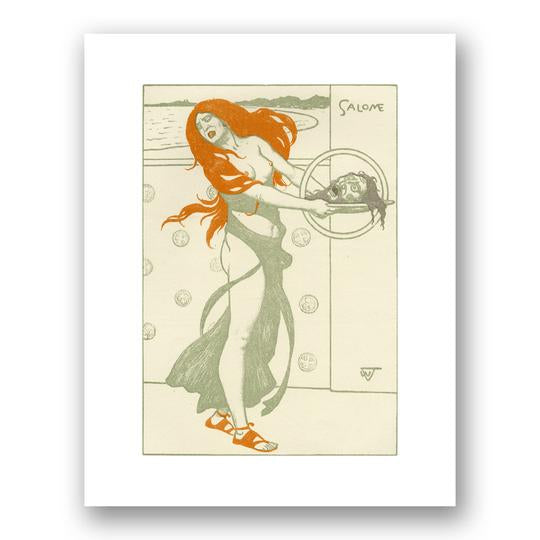 Salomé by Wilhelm Volz
Regular price $19.00 Sale
Volz's stark biblical image conveys a horrifying story.  Salomé was coached by her mother to request the beheading of John the Baptist. She earned this by dancing so captivatingly before the king that he offered to grant her any favor. Volz's composition retains an echo of her dance, with her swirling garments and vividly red flowing hair. Volz, whose work was published in the avant-garde journal, PAN, chose a bold decorative interpretation of a traditional and well-known religious narrative.
 This work was featured in the Driehaus Museum's 2020-2022 exhibition, PAN: Prints of the Avant-Garde Europe 1895-1900.
1896
Color lithograph on laid paper
The Cleveland Museum of Art, Bequest of John Bonebrake, 2014.689
A high resolution digital image of this wonderful artwork has been printed on matte finish fine art paper surrounded by white border to give the appearance that it is matted when inserted alone in a frame. Print is rolled with tissue paper to protect against dust before being packaged in a mailing tube.

Order fulfilled by Museums.co.