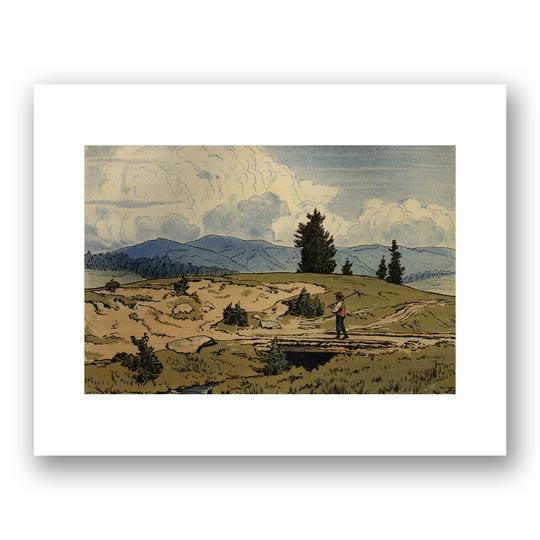 Landscape by Hans Thoma
Regular price $19.00 Sale
German artist Hans Thoma's religious faith and personal views inspired his paintings of nature and everyday rural life, lending scenes like this majestic Landscape symbolic weight. Here, the Romantic notion of man's insignificance within the awe-inspiring immensity of Nature appears as a man crosses a footbridge in the mountains, the sky and mountains towering over him, but without menace.
This work was featured in the Driehaus Museum's 2020-2022 exhibition, PAN: Prints of the Avant-Garde Europe 1895-1900.
1896
Color lithograph on aluminum plate
Courtesy of Denenberg Fine Arts

A high resolution digital image of this wonderful artwork has been printed on matte finish fine art paper surrounded by white border to give the appearance that it is matted when inserted alone in a frame. Print is rolled with tissue paper to protect against dust before being packaged in a mailing tube.

Order fulfilled by Museums.co.