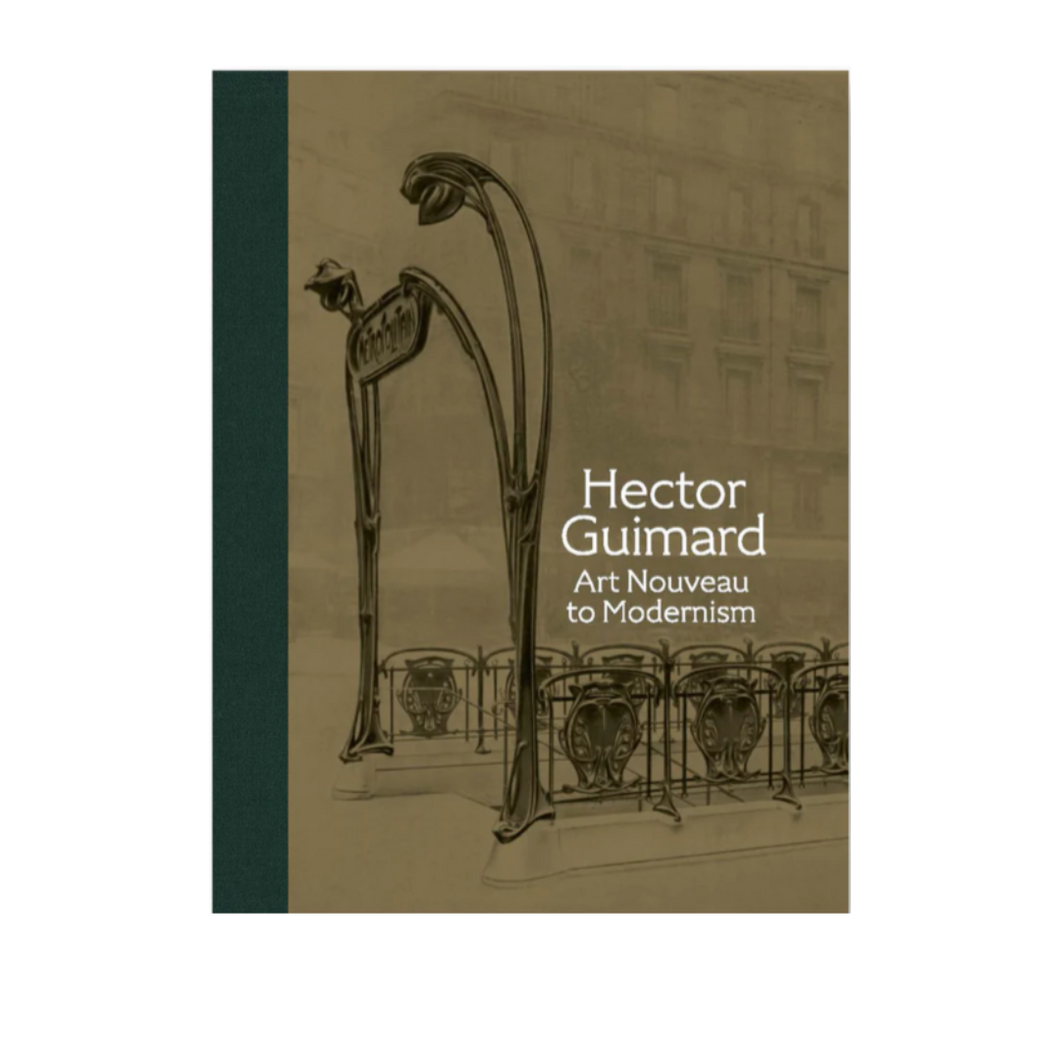 Hector Guimard: Art Nouveau to Modernism
Regular price $50.00 Sale
A beautifully illustrated retrospective of Art Nouveau architect and designer Hector Guimard, positioning him at the forefront of the modernist movement

Hector Guimard (1867-1942) was one of France's greatest Art Nouveau architect/designers. In an exhibition organized by the Richard H. Driehaus Museum in Chicago and Cooper Hewitt, Smithsonian Design Museum in New York, accompanied by a gorgeous catalogue, seven distinguished scholars share their research and knowledge of Guimard. The book's insightful essays help us better understand the architect's groundbreaking work.

The aesthetic of architect Hector Guimard has long characterized French Art Nouveau in the popular imagination. This groundbreaking book showcases all aspects of his artistry and recognizes the fundamental modernity of his work. Known for, among other things, the decorative entrances to the Paris Métro and the associated lettering, he often looked to nature for inspiration, and combined materials such as stone and cast iron in unique ways to create designs composed of curves and waves that evoked movement. Guimard broke away from his classical Beaux-Arts training to advocate a modern, abstract style; he also pioneered the use of standardized models for his design objects and experimented with prefabricated designs in his social housing commissions, advancing the technology of the time. 
 
With copious, beautifully reproduced illustrations of his architectural drawings as well as his furniture, jewelry, and textile designs, this volume explores Guimard's full oeuvre and elucidates the significance of his work to the history of modern art. Essays by an international group of scholars present Guimard as a visionary architect, a shrewd entrepreneur, an industrialist, and a social activist.
Edited by David A. Hanks; With essays by Barry Bergdoll, Sarah D. Coffin, Isabelle Gournay, Philippe Thiebaut, and Georges Vigne. 
The book is published by Yale University Press in association with the Richard H. Driehaus Museum with support from the Graham Foundation for Advanced Studies in the Fine Arts. 
Hardcover | 232 Pages