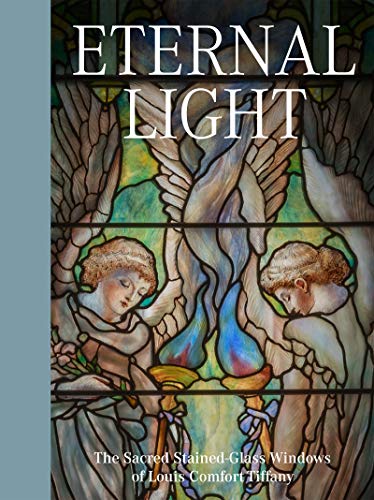 Eternal Light: The Sacred Stained Glass Windows of Louis Comfort Tiffany
Regular price $24.95 Sale
Louis Comfort Tiffany, and the Tiffany Studios he founded, are internationally famous today for their inventive, intricate, and vibrantly colored leaded glass work. Ecclesiastical commissions made up the majority of Tiffany's work, and his innovative application of opalescent glass to windows radically transformed the interiors of religious institutions in America. Eternal Light: The Sacred Stained- Glass Windows of Louis Comfort Tiffany is the first volume to focus exclusively on Tiffany's celebrated ecclesiastical windows, presenting ten of the most significant religious windows produced by Tiffany Studios between 1880 and 1925, and the important collection of Tiffany works at The Richard H. Driehaus Museum.
Tiffany's masterpieces tell stories of American entrepreneurship, of places of worship, and of evolving relationships to religion. This volume not only focuses on the beautiful and exceptionally crafted objects in the collection, but it also delves into the ideas and stories, including the progressive technologies, designers, and patrons behind the windows. As well as comparative details there are two special gate-fold inserts which highlight two of the windows—Christ and the Apostles, 1890 and Ecclesiastical Angels, 1905.
About the Authors:
Catherine Shotick is the curator of collections and exhibitions at the Richard H. Driehaus Museum. Elizabeth De Rosa taught at the Cooper-Hewitt/Parsons MA Program in the History of Decorative Arts and Design. Richard P. Townsend is the director of the Richard H. Driehaus Museum. Rolf Achilles is an independent art historian.